Biodegradable Pet Urns- Navy Blue Chest Earthurn

This beautiful Biodegradable Pet Urn - Chest in Navy Blue is made from handmade paper and will biodegrade over time when buried.The top of the urn is adorned with handmade paper flowers. TSA approved and the perfect urn for carry on when traveling. Our biodegradable urns are constructed to clearly allow security screeners to view the contents of the urn. Available in two different sizes.
Includes a water-soluble plastic bag which holds the cremated remains.
Sizes:
Large Pet- 8.75" x 6.75" x 4.5" Suitable for pets 80lbs and larger
Small Pet- 6.75" x 4.75" x 3" Will hold pets up to 80lbs.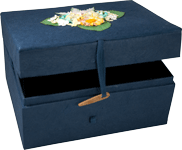 Memorial Gallery's unbeatable
biodegradable pet urns value

Lowest price guarantee

100% money-back guarantee

Free

water soluble bag for containing ashes inside urn

Telephone support 253-649-0567

All of our biodegradable urns
are available for overnight delivery