Biodegradable Pet Urns: The Shell Aqua

This beautiful Biodegradable Pet Urn - Burial At Sea Shell is custom designed and hand painted. Once our biodegradable shell is gently submerged for 60 seconds, it will float for approximately five to twenty minutes (depending on wave action) before descending gracefully. It then gently releases ashes. A great choice for burial at sea. Please carefully read all instructions enclosed in box before use.
Fabricated by hand from recycled and earth-friendly materials.
Biodegrades completely in the water within hours.
Individually hand-painted.
Includes custom designed, protective carrying case for convenient and discreet transportation.
Loading ashes into shell is easy. No assembly required.
Exceeds durable container and TSA airline carry-on requirements.
Original Artwork by a national and international scientific illustrator and artist who has produced work for numerous zoos and aquariums, wildlife and ocean conservation groups, and is a selected artist of the American Birding Association. His background in environmental studies and biology, coupled with his talent as an illustrator, result in shells that are both scientifically accurate and beautiful. Produced using old world "rough pulping" techniques that transform recycled paper into beautiful biodegradable urns.
Part of your purchase of this biodegradable urn is donated to the ocean conservancy in your loved one's name by completing the enclosed card.

Dimensions: 16" x 16" x 6" (400 cubic inches). Ample room for personal notes, mementos or can serve as a double urn or companion urn for two cremated remains.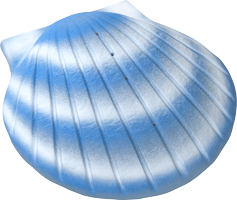 Front view of shell urn shown above.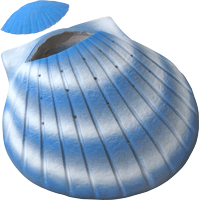 Opening shown in back of shell urn.
Memorial Gallery's unbeatable
biodegradable pet urns value

Lowest price guarantee

Free water soluble bag for containing ashes inside urn

Telephone support 253-649-0567

All of our biodegradable urns are available for overnight delivery