Cat Cremation Urn: Forever and Ever

Pet urns allow you to keep your beloved pet's cremated remains in a safe wonderfully designed container. This beautiful hand crafted urn shows cats playing in the clouds on a stellar cream colored background. A perfect way to keep the memory of your pet alive and well. Every piece is hand tinted.
Most items ship same or next business day.
Dimensions: 4.5" x 4"
Holds 30 cubic inches or the ashes of a beloved pet that weighed 30 lbs or less at time of passing.
Material: crushed marble medium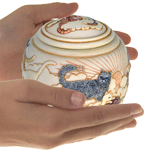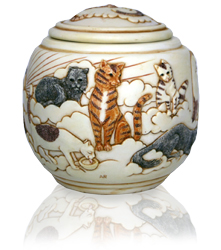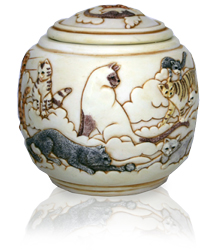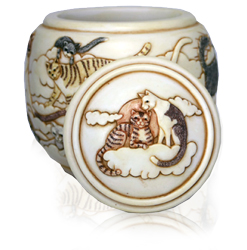 Memorial Gallery Pets' unbeatable
Pet urn keepsake values
100% money-back guarantee
Telephone support 253-649-0567