Pet Cremation Urn Keepsake- Pig
Approximate Dimensions: 2"H x 1.75"W
Capacity: A small amount of ashes; a few pinches.
Our pig cremation keepsake urns are inlaid with stunning crystals and are a whimsical and meaningful way to remember your loved one. Each pig is packaged in a black velvet bag.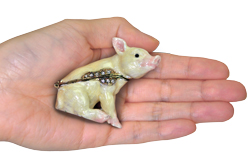 Pig urn keepsake shown in hand for size scale.
Memorial Gallery's unbeatable
cremation keepsake urn value
Lowest price guarantee

100% money-back guarantee
5-star customer service