We ship internationally! View shipping information.

Questions? Call us at 253-649-0567 or email us at service@memorialgallery.com
Personalization
Font Choice?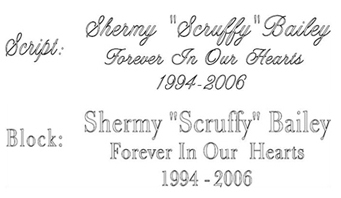 Add engraved clip art? (Click on selection to view)

Add other clip art not shown? (Please specify desired clip art; ex. decorative border) (+ $10.00)
Add engraved silhouette (enter name of breed): (+ $10.00)
Granite Photo Pet Grave Marker 1" Thick

Our heartfelt, photo pet grave markers are made of 1" thick granite with your pet's photo laser engraved into the granite. Granite burial markers are much stronger than marble headstones. Each of the memorial markers have a perfectly polished finish.


Just place your order, entering the text you want engraved


Then email a picture of your beloved faithful friend to us at

service@memorialgallery.com

.

Reference your order number in subject line.

We then send you a proof so that you can

approve

before we make it.

Available in six sizes:


4" x 8" x 1" ~ rectangle
6" x 12" x 1" ~ rectangle
8" x 8" x 1" ~ square
8" x 12" x 1" ~ rectangle
12" x 12" x 1" ~ square
16" x 16" x 1 ~square

Allow 5-10 business days for proof approval process & creation. Plus ship time.


Engraving layout may not be exactly like sample because each engraving is different with amount of text or angle of photo. Our skilled engraver will create a layout design for maximum impact based on the amount of text and photo.

Image Instructions:
Just email the photo in jpg format to us at
service@memorialgallery.com
.
Please feel free to call us at 253-649-0567 if you have any questions. If you don't have a digital photo, just take a paper photo to Sam's Club, Walgreen's or Costco and use their photo duplicating machine to convert the photo to a file on a CD.
High quality pictures will provide you a better result on the laser engraving.
Thank you so much for doing such a fabulous job on Farley's memorial headstone. It's GORGEOUS, better than we could have imagined. It sits over Farley's grave in our yard w/ beautiful flowers all around it. (When the memorial is complete, I will post photos). Excellent customer service from the time of the initial order to the delivery. Brenna is the best! The loss of my son of 16.7 yrs is so tough, having this special memorial headstone in his honor helps us with some of that pain. Thanks so much! Danielle & Tom Cedarburg, WI (
Granite Photo Pet Grave Marker - 1" thick
)
July 17, 2014
I found you through a simple Google search. I am so glad I did. The headstone you did for our cat, Chaps, is so perfect. I can't thank you enough for your courteous and professional manner. You answered the phone yourselves and helped with every question I had. When I got it delivered, I simply couldn't believe my eyes. What a fitting memorial to our sweet Chaps. It is of such fine quality and the picture you engraved is unbelievable. Thank you so very much for providing us with such an honorable memorial to our beloved CHAPS. LYNNE TOLEDO Simi Valley, CA (
Granite Photo Pet Grave Marker - 1" thick
)
April 07, 2014
I received the stone. I'm so very happy with it. It's a great tribute to a great dog. Both of my sons teared up when I sent them a picture. Thank you again. Barb (
Granite Photo Pet Grave Marker - 1" thick
)
March 24, 2014
I had high expectations for the granite pet grave marker (slab). I was not disappointed. I am very pleased and would recommend your website to anyone. The photo of my squirrel was so life like. Thank you for such a beautiful marker. Bonnie Crosby from Baxley, Georgia. (
Granite Photo Pet Grave Marker - 1" thick
)
February 20, 2014
Brenna, I wanted to let you know that my family loved the stone. So much they will not allow me to place in the ground outside. They said it's to nice so I found a location in the house to display. Merry Christmas and Happy New Year, Constance (
Granite Photo Pet Grave Marker - 1" thick
)
December 26, 2013
Hey you guys,[BRENNA] The marker for Daisy was absolutely perfect I don't know how we could have made it nicer. {I think Daisy will really like it]. THANKS FOR YOUR PATIENCE AND MERRY X-MAS. Rick (
Granite Photo Pet Grave Marker - 1" thick
)
December 19, 2013
Brenna, I want to thank you so much for the memory stone! It looks so good, I know my wife will appreciate it so very much! Aztec was her baby and is very much missed in our home but this will be a great memorial! (
Granite Photo Pet Grave Marker - 1" thick
)
December 12, 2013
We just received the marker, and it about took our breath away. A few tears were shed, but it is beautiful. Thank you again so much, and please thank the staff. We really apprectiate their talents. Much love, Vance (
Granite Photo Pet Grave Marker - 1" thick
)
August 22, 2013
Dear Brenna, I just received Maisey's grave marker and wanted you to know how much I love it. You captured not only how she looked but her sweet, gentle spirit. Thank you so much for sharing you talent and compassion with all of us who have lost a dear animal companion. Marilynn (
Granite Photo Pet Grave Marker - 1" thick
)
August 21, 2013
Hi Brenna I just wanted to let you know that I received the Grave Marker for Sandwich today and I just wanted to let you know that I think that it is fantastic. It's very tasteful and I think that it does our little rabbit justice. Thank you so much. Sandra (
Granite Photo Pet Grave Marker - 1" thick
)
August 09, 2013
Hi Brenna, I received my Moose Kitty's gravestone today and I just wanted to tell you that I absolutely love it! You did such an amazing job of capturing Moose Kitty's spirit and it is just beautiful......again it brought me to tears. Thank you so much! I will definitely recommend your company to everyone I know. Sincerely, Jane (
Granite Photo Pet Grave Marker - 1" thick
)
August 07, 2013
Memorial Gallery's unbeatable Pet Burial Markers

Lowest price guarantee
100% money-back guarantee
5-star customer service
Telephone support 253-649-0567