* denotes required field
Add engraving?
*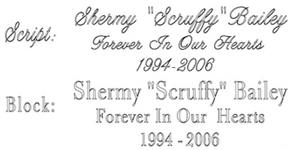 Add collar chain + tags? Pre-engraved "My Dog" Tag comes automatically with engraved Heart Tag:
Engrave Heart Tag as follows (Front- max 8 chars | Back- max 8 chars): (+ $29.99)
(Update Price)
30 characters remaining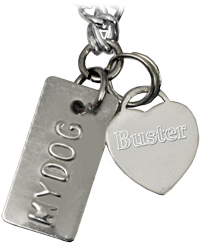 Add large Plaque? Select color
Engrave Plaque as follows: (+ $24.95)
Engrave directly into wood? (+ $24.95)
Add fill to wood engraving?
Add engraved clip art? (Click on selection to view)

Add other clip art not shown? (Please specify desired clip art) (+ $10.00)
Add engraved silhouette (enter name of breed): (+ $10.00)
Add Customer Supplied Drawing?