Sand and Gelatin Biodegradable Pet Urn: Traditional Pearl

The Traditional Pearl biodegradable urn is an attractive and environmentally-friendly alternative for families. The urn is made of sand and gelatin and is hand painted by skilled artisans. When placed in water, the urn is designed and engineered to float briefly before sinking. The time each urn takes to sink will vary depending on the weight of the cremated remains and local water conditions. Once placed in water the urn will break down within three days. Federal regulations must be followed when placing the urn at sea. (no closer than 3 nautical miles from shore). Use elmers glue to seal top; allow to dry for 8 hours; will float for approximately 3 minutes. Float times depends on weight of cremains, and local water and weather conditions. When buried the urn will biodegrade in three months.
TSA approved and the perfect urn for carry on when traveling. Our biodegradable urns are constructed to clearly allow security screeners to view the contents of the urn.
Approximate Dimensions: 8.86"H with 6.89" Diameter
200 Cubic Inch Capacity

Traditional Pearl biodegradable urn shown below in hands for size scale, with open lid and interior view.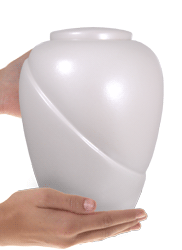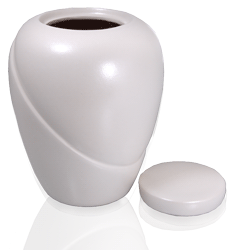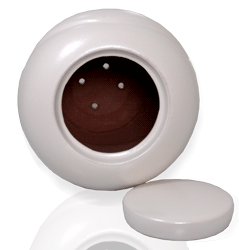 Memorial Gallery's unbeatable
biodegradable pet urns value

Lowest price guarantee

100% money-back guarantee
Free water soluble bag for

containing ashes inside urn

Telephone support 253-649-0567


All of our biodegradable urns
are available for overnight delivery