* denotes required field
In order to catalog & keep prints on file- please supply name prints belong to:
*
Add engraving? Select Font
*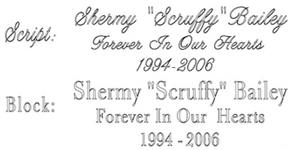 Add name to Front? If no font selected, block font will be used.
Engrave name, above nose print (max 6 chars): (+ $14.95)
(Update Price)
Engrave as follows on back of both earrings (MAX 3 LINES; 8 chars/line): (+ $24.95)
Attach file. 1 MB max upload. (Larger files please email to service@memorialgallerypets.com include order number).
600-1200 dpi JPG format recommended